In the face of the global Covid-19 pandemic, altruism and kindness have been needed more than ever. And this has also been felt in the influencer marketing community. Indeed, many influencers started supporting nonprofit organizations in their work, highlighting the positive power of influence in times of crisis. One year later, the commitment of content creators to the causes they care about remains as strong as ever. The SupporterHub website even reveals that 1 out of 3 influencers currently supports charitable causes. A real opportunity for associations. Zoom on this new alliance between charities and influencers!
How can charities benefit from the influencers?
The Stellar analytics tool, along with other U.S. studies, highlights an explosion in the number of followers gained by influencers in March 2020, which is when the Covid-19 pandemic began. But that's not all! Engagement in posts also increased by 61% compared to the rates typically seen. And this is especially true on TikTok and Instagram, where impressions per campaign and views per Stories are also reportedly up. This increase in reach and engagement leads us to believe that this is the perfect time to launch influencer campaigns. Even more so for charities, at a time when authenticity and generosity are values shared by many influencers.
Visibility
Gaining visibility, especially among a young audience (15-24 years old), is now the objective of NGOs. According to a study on young people and e-solidarity, 43% of young people say they make donations and 47% sign petitions. Young people are therefore committed. However, the communication of nonprofit organizations is sometimes a bit old-fashioned (hello postal mail). Recreating a lasting commitment and reconnecting with the general public is therefore a great necessity. To do so, we need to be present where young people are, on social media.
The Harris Interactive barometer, established in 2017, measured the impact of social networks for NGOs and the links that unite them with their audience. According to 60% of those questioned, the presence of NGOs on social networks is important, if not essential, to become known and gain notoriety.
Maryne and Jules, from the blog Explore le monde, work hand in hand with the association Kynarou which works for access to drinking water in India and Burkina Faso. Thanks to their digital communication, they have been able to reach 740,000 people on social networks, most of whom are 25-34 years old. As a result, the #Washin5 community doubled AND got younger.
Voir cette publication sur Instagram
Credibility
Influencers in campaigns act as spokespersons for an organization or a brand. This role adds legitimacy and relevance to your organization, because if an influencer has accepted to support you, it is certainly for a good reason. The influencer's followers, who trust the influencer, will then more easily trust you, by mirror effect.
Jean-François Riffaud, director of communication at Action Against Hunger, declared last December: "NGOs are perceived as institutions that only defend personal interests […]. Social networks must be the key if we want to deinstitutionalize. One of the solutions would probably be to give a voice to those who have the most influence and to include beneficiaries in the expression of NGO struggles using social networks."
Conversion
Influencers by definition influence the buying decisions of their audience. How do they do this? By creating a close relationship with their followers, thus positioning themselves as trusted friends who help them make informed decisions. Indeed, influencers have a real power of recommendation. And this is not surprising when a Mediakix study reveals that 82% of Internet users follow the advice of those they trust.
To convince and persuade, opinion leaders play on emotion. And as Benoît Miribel, former executive director of Action Against Hunger, said during his term: "Emotion remains an essential factor in indignation and therefore in mobilizing people to act." Through messages tailored to their target audience, influencers therefore strike a chord and arouse public enthusiasm to multiply the effects of a campaign. From these emotions, an awareness is then born that leads to action with the sending of donations, fundraising, signing petitions, recruiting new volunteers…
And all this at a low cost! Indeed, the commitment to a cause is a powerful driver that often prompts the influencer to accept lower-than-usual compensation or even to do it for free.
For the 2019 Z Event, more than 50 streamers mobilized for more than 54 hours to benefit the Institut Pasteur. In total, more than 3.5 million euros were raised, a historical and worldwide record for the Twitch platform.
How to choose a relevant influencer for your cause?
1- Define your campaign objectives
Operational objectives
First of all, it is important to define your campaign objectives. There are 3 families of operational objectives:
Cognitive, which consists in making yourself known, i.e. to gain visibility (ideal if you are a young association). Here, we advise you to multiply the number and types of influencers in order to make a maximum of noise.
Affective, which consists of making people like you, or reinforcing your brand image. Ideally, you should choose influencers who are very committed to the cause you are defending. You will then gain credibility.
Conative, which consists of getting people to take action, i.e. improving your conversion rate (fundraising, collecting donations, signing petitions, etc.). The ideal here is to choose influencers with a high engagement rate.
Editorial objectives
These three operational objectives must then be combined with editorial objectives:
Sensibilisation

: raise awareness of your cause by showing the reality of the situation with figures or shocking images. The idea here is to generate awareness.

Interest: bring attention to your organization by sharing educational content about why you do what you do to support a specific cause. The idea here is to show how your organization works in order to build trust with your audience.
Decision

: convince and persuade by highlighting life stories (volunteers, participants, people helped…). The idea here is to show the results of your actions as a charity and why donations are important to help you continue these actions.

Action

: drive action with promotional content that lets the public to know exactly where they can donate, sign up to volunteer, attend an event, sign a petition…
On November 5, 2020, more than 60 French Youtubers came together in a video titled "We're ready." The objective? To raise awareness among young people about the issues of the COP21 and to communicate the right gestures to preserve the environment. This campaign was a success: 6.5 million views in 2 days and 500 000 signatures collected in 2 weeks!
2- Choose the right social platform
Choosing the right digital communication platform is also an important prerequisite. This is not a matter of chance, but the result of two criteria. Choose a social platform on which: 
you already have an active account in order to bring a proof of credibility in support of the campaign, but also to gain subscribers to then establish a close link with your new contacts
your target is present to make sure you reach the right people and achieve your campaign goals
You should also know that some platforms have particularly interesting tools to launch charity campaigns. This is notably the case of the social media Instagram or TikTok which both have "Donation" stickers to collect funds directly from the application. Indeed, the mobile app TikTok has launched a brand new interactive feature to raise funds for charities. This sticker is integrated directly into videos and live sessions.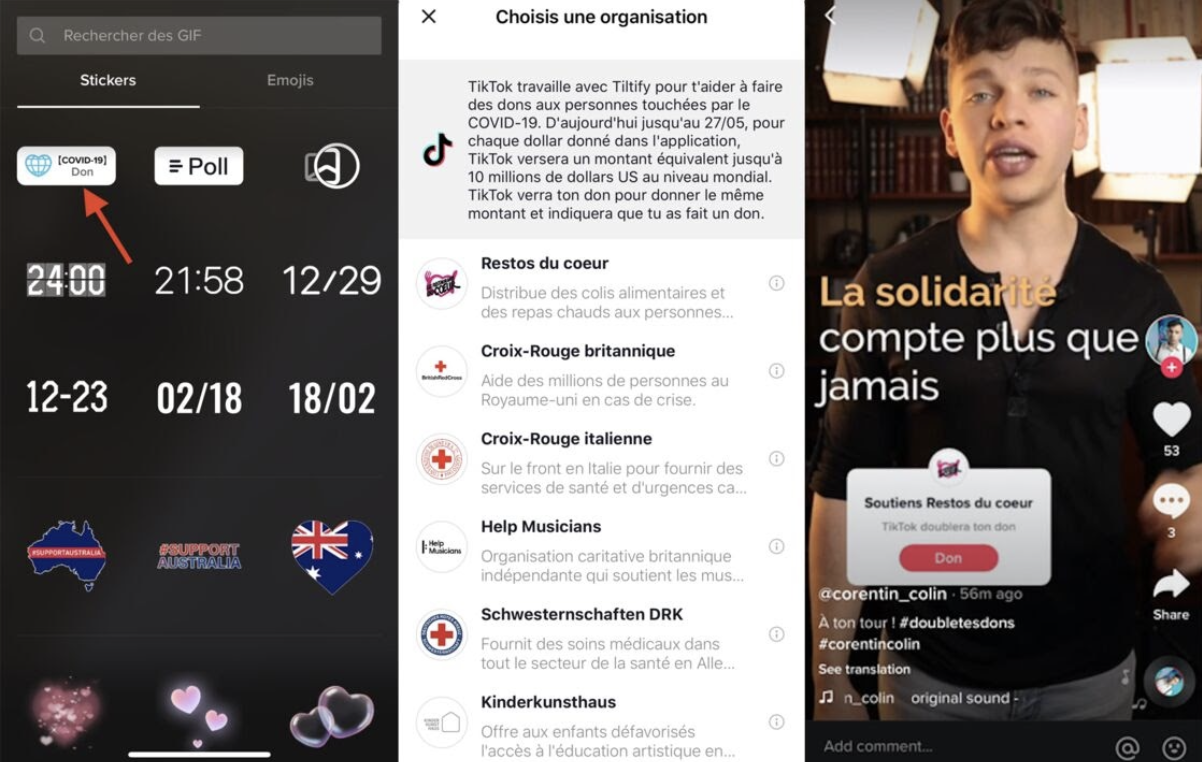 3- Choose the right format
To ensure the success of your campaign, it can be interesting to vary the formats (videos, photos, carousels, events…). Each influencer will also be able to propose the format that seems the most adapted to him. Don't forget that he is the content creator and that he knows his target perfectly.
However, we wanted to insist on the superiority of the video format (Stories, Reels, IGTV, TikTok, YouTube videos…) for charity campaigns. And for good reason, in addition to being the new trendy format on social networks with 1,200% more shares than images and texts combined, video brings authenticity and a stronger closeness with the audience. The reason? This content format allows for a combination of emotional impact and memory stimulation.
In the middle of lockdown, the World Health Organization (WHO) has, for example, launched the #SafeHands campaign on TikTok. The objective? Challenge influencers to show how to wash their hands properly in less than 40 seconds of video. The hashtag #SafeHands now has more than 5.5 billion views on TikTok.
4- Determine the right time frame
Long term or short term? That is the question! The ideal scenario is obviously to create long-term partnerships, in order to gain credibility and efficiency. And this, the influencer Ophélie Duvillard explains it very well: "We are contacted several times a day. In the end, we don't talk about anything, because otherwise I would talk to you 3 times a day about charities. It's drowned out, it's useless and it's not really supporting a cause to do that… So, I decided to become an ambassador for one association year and change every year to support a cause to really serve something."
The actor and influencer Omar Sy is, for example, the sponsor of the charity Cé Ke Du Bonheur since its creation, 10 years ago now. His daily life is thus marked by his participation in charity events, donations, but also by awareness on social networks.
Voir cette publication sur Instagram
5- Choose the right influencers
Charities and influencers, common values
First of all, it's important to choose influencers with values that are similar to yours. And for good reason, associating your charity with an influencer who does not correspond to your vision could confuse your followers and taint your image. So turn to influencers with a deep personal interest in your cause!
Influencer Noholita, for example, is particularly committed to the animal cause. She recently adopted her little dog Twister from the Fondation Assistance Animaux shelter. She also posts committed messages quite regularly on her Instagram account, as you can see below. So naturally, the SPA contacted her for an influence campaign in February 2020.
Voir cette publication sur Instagram
Charities and influencers, a common audience
Other criteria to consider are related to the target audience, such as age, gender or geographical location. Beyond that, it is also important to choose a digital content creator with a high engagement rate. This shows the link created between the influencer and his follower, but also and above all the trust granted by the latter to the former.
4 types of influencers according to the number of subscribers
There are several categories of influencers:
Mega and macro influencers, which are public figures with more than 100K followers. They allow for extremely high reach and visibility, which is ideal for large-scale awareness campaigns. However, a high budget is required.
Micro and nano influencers, i.e. public figures between 5K and 100K followers. They are not chosen for their visibility, but for their often incredible engagement rate. These content creators also have a certain accessibility and proximity with their audience, which allows them to create a powerful bond of trust, ideal for conversion in the second phase of the campaign. As far as remuneration is concerned, it is much more accessible, as these influencers are still developing their audience. Nano-influencers very often work in exchange of a product offered.
Superfan or Brand Advocates, people you know who are not necessarily considered influencers, but who still have a presence on social media. They can be your employees, your volunteers, your fundraisers, your donors, your event participants, etc. Because of their charitable commitment, passion and knowledge of the organization, they are important influencers in their own networks. And it's free.
While mega and macro influencers bring a lot of visibility, micro-influencers, nano-influencers and superfans contribute to credibility and brand image. To have a maximum impact, we therefore advise you to mix the different types of opinion leaders, with a large number of micro-influencers and superfans, and then some mega and macro-influencers for visibility.
Telethon x Stellar, a partnership for a good cause
After accompanying the AFM-Telethon in 2018, the marketing influence company Stellar wanted to renew its support to the humanitarian, mutual aid and social association. Our objective is then threefold:
Bring visibility to the event
Raising awareness of rare diseases, which are still not talked about enough
Mobilize as many people as possible in order to collect a maximum of donations and thus advance research
To do so, we invited our French influencers to join the #TelethonChallenge movement from October to December. Their role? Launch a challenge of their choice (sports, humor, etc.) and encourage their community to participate. This user-generated-content (UGC) marketing strategy is particularly effective for boosting the visibility of a cause and engaging users. The playground of our influencers? All social networks, although more particularly TikTok and Instagram.
This campaign will end on Saturday, December 4, 2021, with more than 6 hours of live broadcast on YouTube. On the program: the ambassadors and content creators who participated in the #TelethonChallenge, awareness-raising interventions, international guests and above all… AN IMMERSIVE 3D CONCERT!
Charities and influencers, conclusion
The social currency is real. Having an influencer marketing strategy on social networks as a non-profit organization is a real plus. It not only brings visibility to potential supporters or donors, but also credibility and legitimacy, which are essential when you are starting out. Not to mention the conversion potential it generates in the long run. But you still need to identify the right influencers, those with values and an audience common to your association.
Furthermore, brands can also deploy engaged campaigns through influencer marketing. Toothpaste brand Colgate, whose smile is part of its DNA, supports three optimistic causes:
Femix' Sports, which promotes gender equality in sports
Positive Planet which fights against poverty and discrimination
La Cagnotte des Champs which supports women involved in ecological and responsible agriculture
To support these optimistic projects, Colgate has launched a major influencer marketing campaign in collaboration with our influencer agency. The #jedonnelesourire campaign started on February 9, 2021 with three influencer ambassadors: Valentin Leonard for the Femix'Sports association, Ludivine for La Cagnotte des Champs, Poussine for Positive Planet. All of them produced an immersive IGTV video of 1min30 that was broadcast on their respective Instagram profiles and on the @colgate_france account.
You want to launch an engaging campaign? Contact us and we will accompany you in this new adventure!