As life in quarantine in many countries around the world takes off, communities are doing their best to adapt, regroup, and support each other, especially through social networks.
The influencer marketing community is no exception. Many of our clients, partners, creators and competitors are raising positive awareness and fuelling discussion through blog posts and webinars. Today, more than ever before at Stellar, we want to stimulate our industry and bring our unique voice to it – thanks to the diversity of our solutions and clients, we are indeed fortunate to be at the crossroads of all space players.
Over the past three weeks, many of our clients have contacted our team to ask them how they should manage their influencer marketing and, in some cases, whether they should maintain their campaigns or launch new ones. We've created this article to answer these questions, take stock of the influencer ecosystem and offer some tips for communicating brands in these challenging times, with examples of inspiring campaigns from around the world.
All of this while keeping in mind that everything is changing every day (or even every hour) and that we may not yet have enough perspective with only three weeks of social distancing under our belt. In any case, two things are certain: the marketing industry is forever changed and we believe more than ever in the positive power of influencer marketing in times of crisis.
• The influence marketing industry is in turmoil. Yes, so what?
• The influence marketing industry is in turmoil. Yes, so what?
• Why should we be doing influencer marketing in the time of Covid-19?
• How to communicate in times of crisis?
The influence marketing industry has been turned upside down. Yeah, so what?
An industry put to the test
Yes, recent developments have proven to be challenging for a large number of Influencers and marketers. However, we should not talk about a crisis. It is a reality that a large number of events and festivals are cancelled or postponed, some paid partnerships are paused, cancelled or renegotiated and this obviously has a strong impact on the activity and revenues of content creators. Travel influencer Scotte Eddy and photographer Nicolas Stajic have recently shared their thoughts on the subject evoking their loss of income and fears for the coming months.
There are many reasons for brands: cessation of activity for some, drop in turnover for others, revision of marketing priorities or simply fear of communicating in these tumultuous times. According to Shanice Engel, Director of Influence at our client the agency OONA, « Among the sectors most affected we can mention travel, luxury and fashion industries, not only because communication in general is not relevant anymore or would be seen as Inappropriate, but also because obvious problems with product delivery make campaigns impossible ».
An industry that knows how to bounce back
Fortunately, in the influencer marketing industry, whether we are influencers or marketers, we all have one thing in common: the ability to be creative and responsive at all times. Because of the instantaneity of social networks, we are often faced with having to bounce back and readapt our campaigns on the fly. So, at Stellar, we advised most of our clients to adapt rather than give up, to review the strategies initially planned, the concepts or simply the timings. We are pleased to see that so far brands are receptive to alternative ideas and are willing to change formats or concepts whenever possible.
Back to authenticity and dialogue
Many influencers such as New York fashionistas Katie Sands aka Honestlykate and Elizabeth Savetsky interviewed in The Verge also see this period as an opportunity for influencers to reinvent themselves. "We're in a serious time and it's creating serious conversation," Savetsky says. "I see a lot of my influencer friends going deeper than they usually would and posting different kinds of content. It's going to change the industry for the better and make it less-curated and make it more relationship-based with influencer to follower." says Savetsky.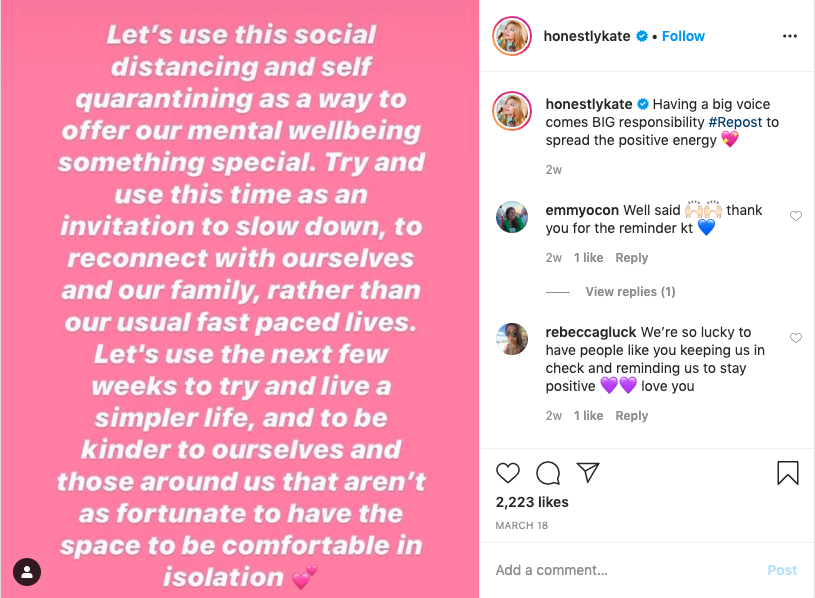 Confinement has undoubtedly changed the influencers, their messages both in substance and form, giving rise to a new relationship with their communities. More creative, to deal with the lack of professional photographers or idyllic settings, more present through live shows and daily meetings, more "natural" and authentic by inviting their followers to share their (real) behind-the-scenes… In short, like an old couple whose partners would have moved away because of too busy life rhythms, the influencer and his follower now take the time to talk to each other and (re)discover each other.
Today more than ever, we need influencers
Mobilisation
The primary role of influencers is obvious today. At a time of mobilization, they are an indisputable support to governments, which more than ever need spokespeople to fight against the spread of the virus. If the United Kingdom, Quebec, Finland or more recently Belgium have pro-actively appealed to influencers to raise awareness of Covid-19, all countries can rejoice in front of the pleiad of spokesmen who spontaneously volunteered. All of them gathered around the hashtags #StayHome, #RestezChezVous, or #ConfinementTotal, either through individual initiatives or through joint campaigns and projects. Among them, the #SafeHands campaign launched by the WHO on TikTok to challenge influencers and celebrities to show in music how to wash their hands in just 40s; or the "Restez Chez Vous" video which mobilized in France 50 influencers including MacFly and Carlito, EnjoyPhoenix, Cyprien, Norman and Mister V. Their common goal is to use their influence every day to raise awareness in their communities about the barriers and convince them to stay at home.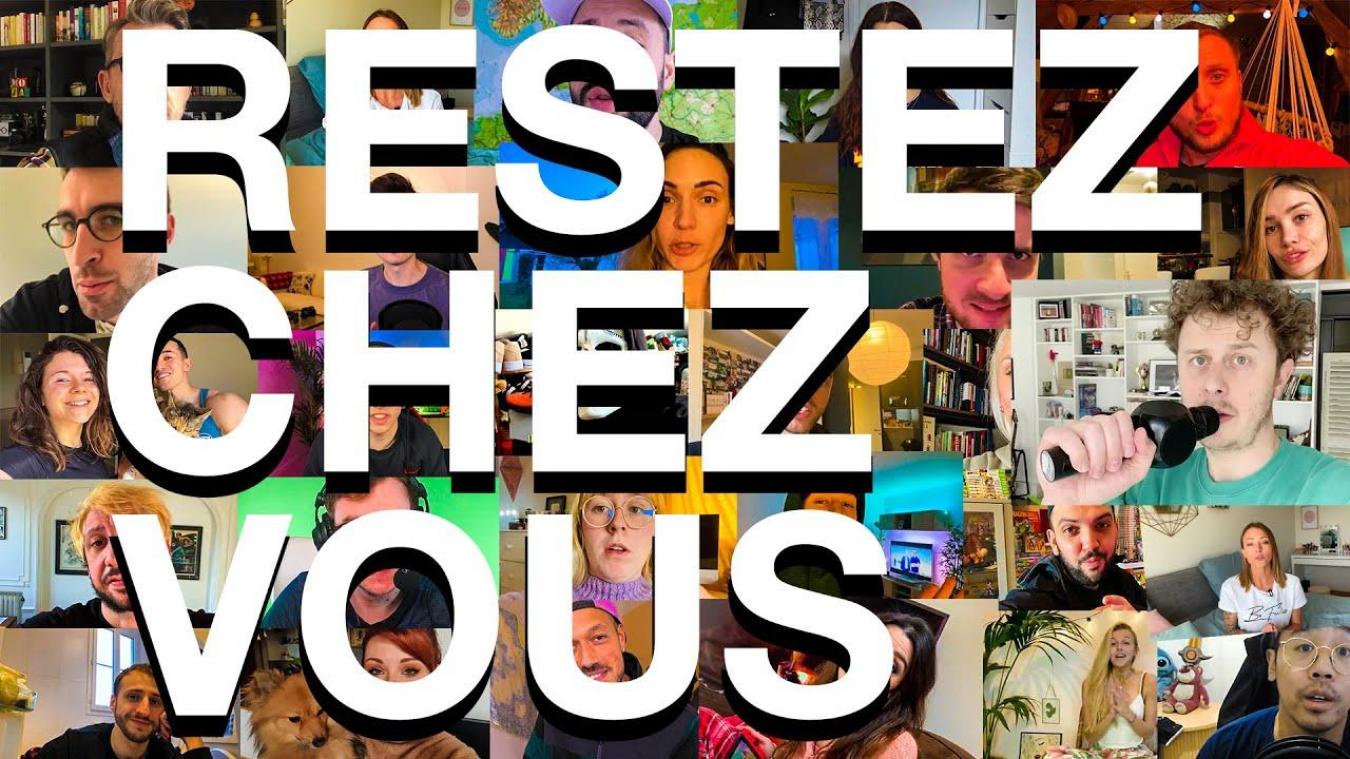 Infotainment
In the age of confinement, influencers are veritable ramparts to which people are clinging, people who more than ever need to be connected, to be entertained or to embrace projects. The time spent on social networks has increased considerably and Zoom and Houseparty are now part of our daily lives. There are countless initiatives taken by content creators to keep us in shape, teach us how to cook, help structure our days or simply to make us laugh. Among the French and Belgian content creators we can mention for example the hilarious videos of Jeremstar, the live meetings of Camille Lellouche, , or the (almost) daily videos of the media Konbini with their celebrity interviews Make Home Great Again. On the sports side, a large number of influencers like Sissymua offer programs, coaching and live sports sessions on Instagram or YouTube; lifestyle influencers like Milkywaysblueyes or Emiliegeois help fill our days with real schedules and challenges and for those who want to get away from it all with music, they can enjoy the live mixes of Belgian DJ Kidnoizeworld on Facebook and Instagram every day at 6pm.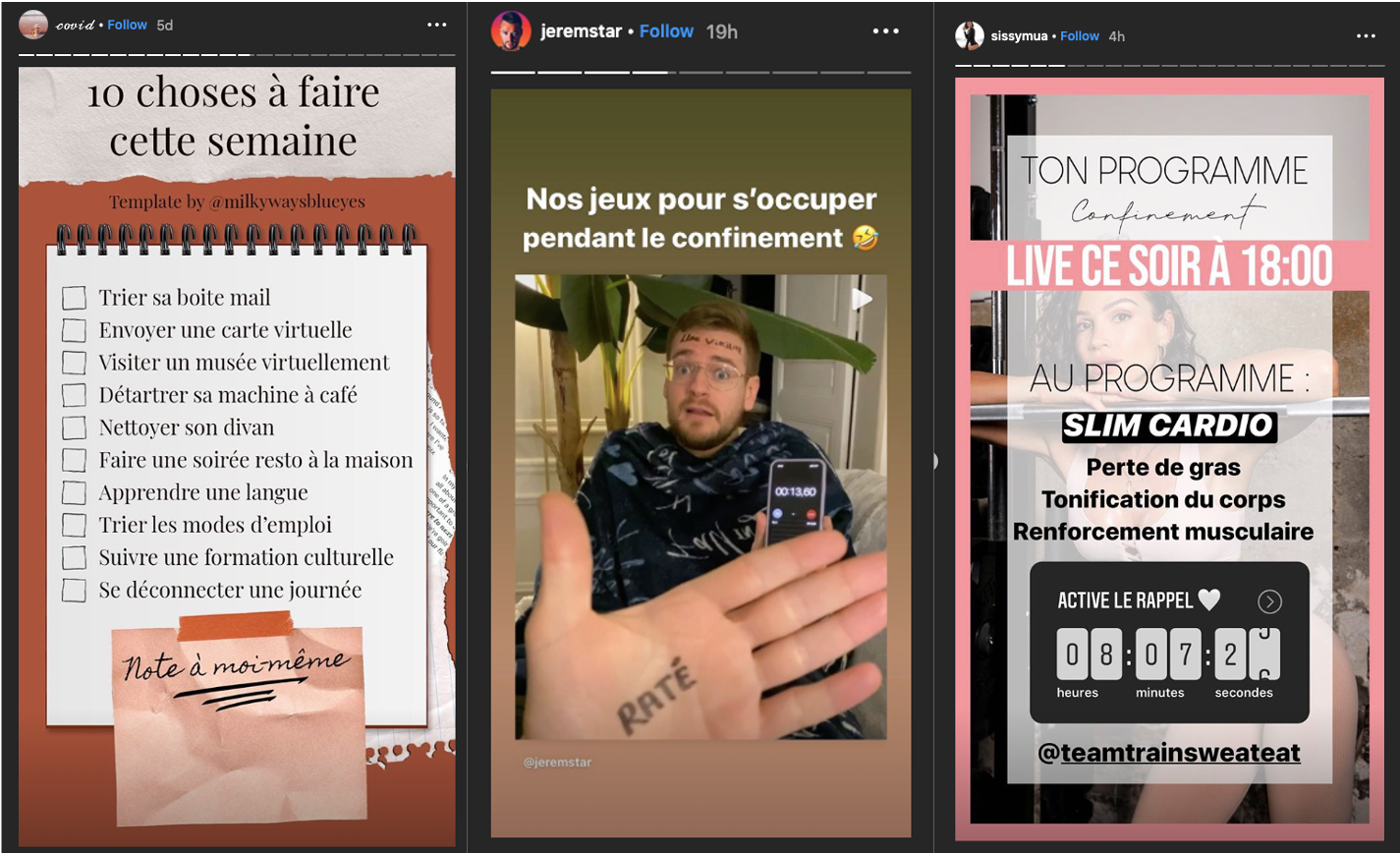 Solidarity
Some influencers go even further and show courage and generosity in supporting hospitals. The list is long, but we can't fail to mention Chiara Ferragni, the Italian influencer with 19M followers who was the first to mobilize people and create a pool collecting €4.3M for a Milanese hospital. In Belgium, the influencers Enzo and Lufy also created a pool that raised nearly €17,000 for the King Baudouin Foundation, a foundation also supported by the influential artist Romeo Elvis who will donate 100% of his profits from the sales of his e-shop. In France, following the initiative of the influencer Elise Goldfarb who launched this project, Lenamahfouf aka Léna Situations encourages beauty brands and influencers to donate moisturizing creams for hospitals.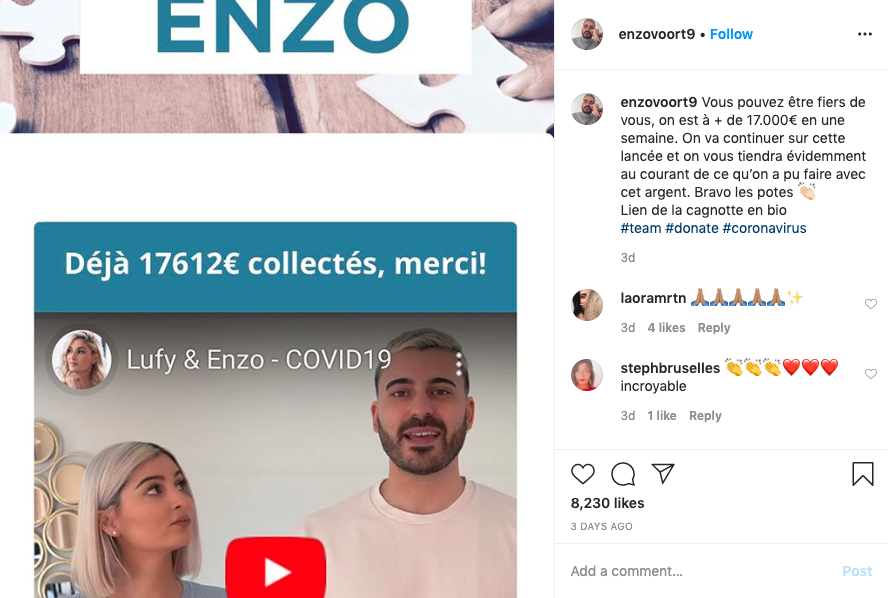 Why doing influencer marketing at the time of Covid-19?
Communication during the stay-at-home economy.
The most frequent question we were asked over the past weeks was: "Should we be doing influencer marketing campaigns right now? »
As Instagram expert Jenna Kutcher recently said, "it's not the season of tranquillity but the season of communication". Moreover, according to a recent Kantar survey held among 30,000 consumers in several countries, only 8% of consumers think that brands should stop advertising because of the coronavirus epidemic. Brands should not stop marketing and this includes marketing via influencers. Their consumers are spending more time online than ever before. According to Kantar and Omdia, web browsing spent has increased by 70%; use of social networks has increased dramatically due to Covid-19 including Facebook (+37%), Instagram (+27%) and Twitter (+23%); visits to Instagram Live and Facebook Live have doubled in one week and TikTok downloads have exploded – from 25.4M to 28.5M in one week in mid-March, the Gen Z video application is definitely winning unanimous support. As a brand, this new context offers a unique opportunity to maintain the link with its audience in order to increase or maintain affinity with the brand, to maintain consumer trust, loyalty and in some cases purchase.
Indeed, in the era of the "Stay-at-home economy", everyone's needs, consumption habits and buying behaviours are being disrupted. Online sales and deliveries are exploding in certain sectors, as the latest Stackline ranking shows: from food and culture to sports and fitness equipment, wellness, hygiene and leisure. In March alone in France, according to Nielsen, e-commerce grew four times faster than physical stores before total containment and home deliveries rose by 72%.
Audiences and commitments never before seen among influencers
In these unique times, influencers can undoubtedly support brands in their communication efforts whatever their objectives are. Influencer marketing is extremely powerful in times of crisis if it is well managed and accompanied by significant expertise. More than ever before, consumers will turn to the opinion leaders they trust for their entertainment or shopping choices.
Analyses carried out with our platform Stellar and other American studies converge to say that the number of followers won by influencers increased considerably from mid-March to the end of March. Post engagement has increased by 61% compared to the usually observed usage rates and Engagement rates are notably very consistent on TikTok and Instagram with the latter also detecting more impressions for its campaigns and views for its Stories. As you can see, if you add to the confidence the fact that Reach, Commitment and Time Spent on Networks are increasing, it is easy to conclude that today is the right time for brands to launch influence campaigns.
How to communicate in times of crisis?
Opportunities but not opportunism
So yes, brands can communicate in times of crisis and especially through influencers. But not at any price and not just in any way. Moreover, according to a recent Edelman Trust Barometer survey conducted in several countries, 84% of consumers think that brands should use their influence to inform, educate and empathize and 65% say that the way brands respond to this crisis will have a huge impact on their future buying intentions. Opportunism must be put aside and make way for publications that focus not only on products but also on brand values and commitments. All this should be done with great care to avoid any slippage, because the objective is to keep the conversation going and not to be the subject of conversations. In this perspective, influencers can play a considerable role.
If you want to talk about your product offering, you will have to forget your initial editorial calendar and rethink your communication. This includes, above all, not ignoring the context. Indeed, some brands and influencers put aside products that are too expensive, or posts that are too 'glamorous' to avoid offending those for whom this period is particularly difficult. The American influencer Elizabeth Savetsky declares that since the announcement of the confinement at the end of March, she shows herself dressed simply on her couch, rather than perfectly coiffed and dressed in expensive outfits. So, don't ignore the context and maybe even talk about it to break the ice. Kristin Cavallari, an American celebrity with 3.9 million followers and business leader, explained why she was promoting her Uncommon James jewellery brand, simply stating that she had 100 employees and would do anything she could to help them keep their jobs, including promoting her sale on Instagram.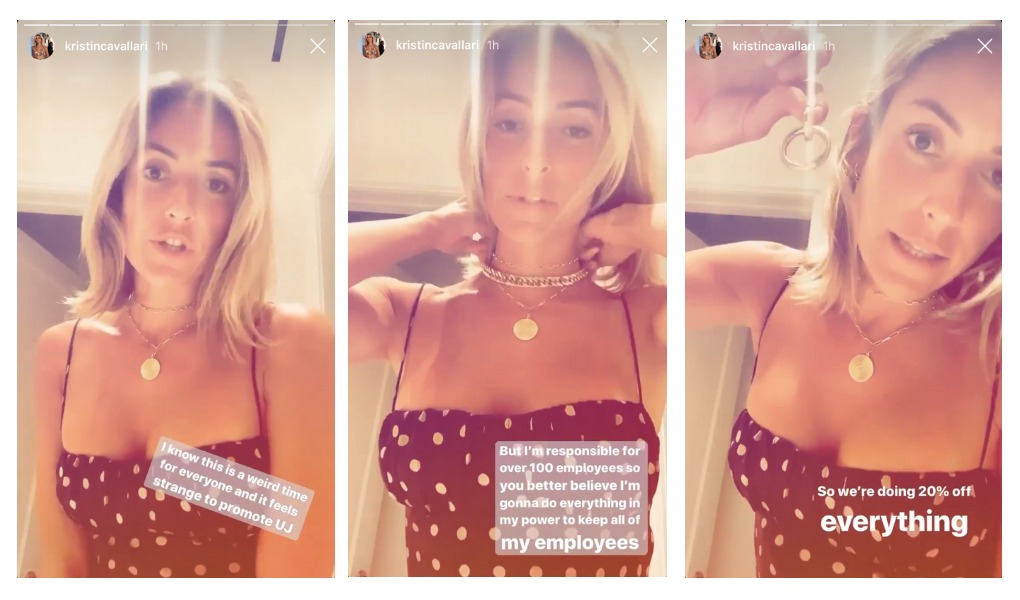 If you don't want to or simply can't talk about your product offering, then you will have to create quality value-added content for your community in times of crisis. Here are some of the many communications from around the world that have caught our attention and can serve as inspiration:
Some aimed at getting people to stay in their homes and adopt the right gestures, follow the guidelines to fight the pandemic:
Nike
As the last brand to encourage quarantine, Nike has made an impression with this memorable punch-line created by the Wieden + Kennedy Portland agency.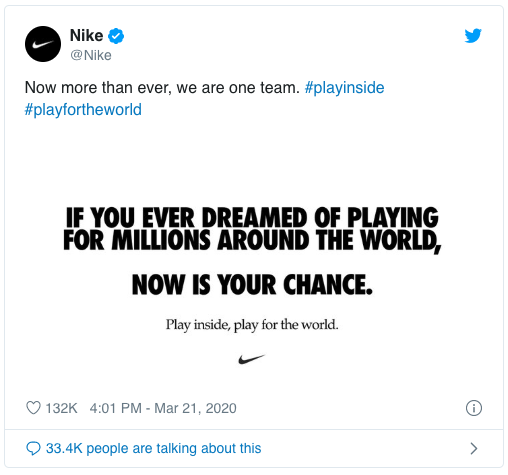 Sanex
As a brand of the Colgate-Palmolive group, Sanex has the legitimacy to remind everyone about the principles of hygiene and barrier gestures.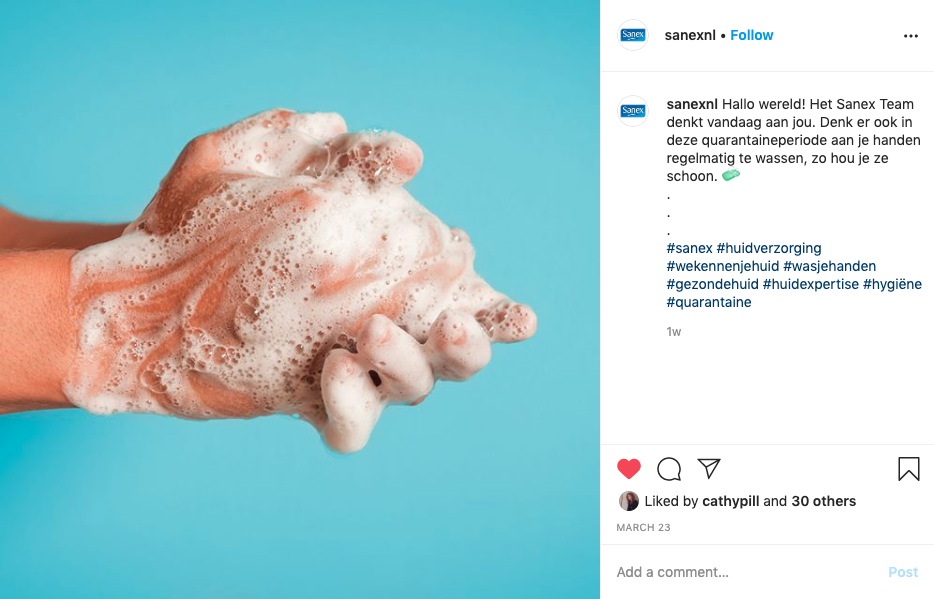 Audi and Volkswagen
Volkswagen's iconic brands redesign their logos to encourage social distancing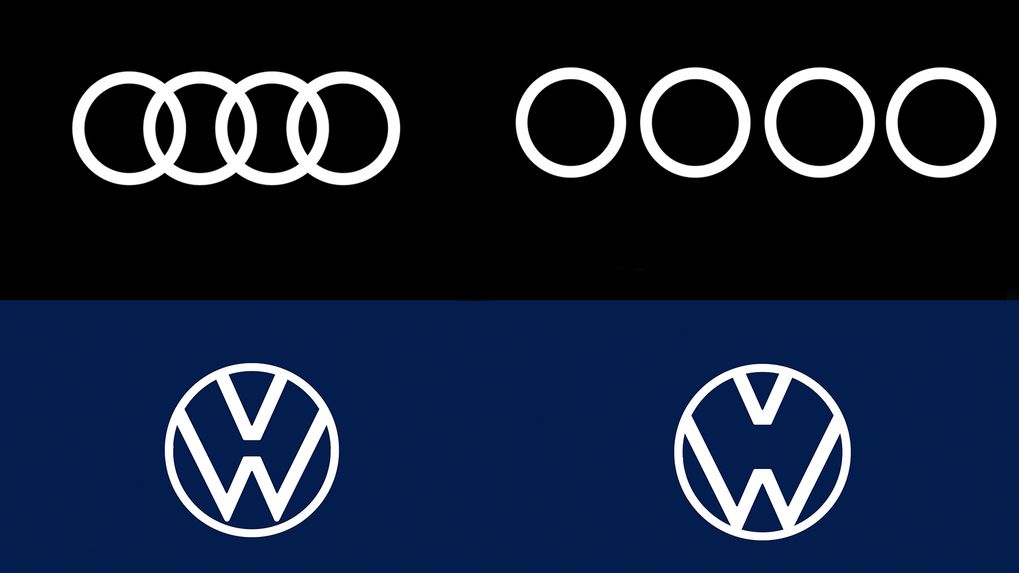 We have also listed a large number of initiatives to entertain and gather, and thus boost the morale of the troops during containment:
Etam
The lingerie and swimwear brand, also known for its interior and sportswear lines, collaborates with ambassadors to offer their subscribers live sports sessions on Instagram. Aria.official the Instagrammer with 131K followers did a takeover of the Etam account to give a live yoga class.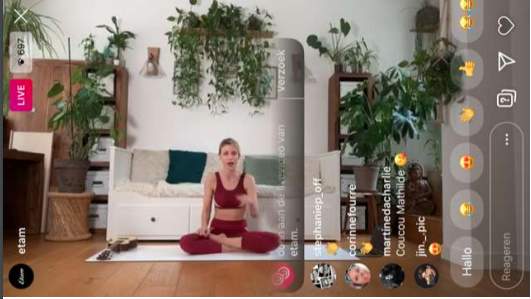 Revolve
The famous US fashion retailer Revolve , known for its extraordinary events, holidays and travels dedicated to influencers, has had to radically change its content strategy. So, to replace the famous #revolvearoundtheworld, they created a new hashtag #revolvearoundthehouse to encourage their subscribers to "stay positive, stay productive and, most importantly, stay connected". They then shared a ton of useful content and make their Instagram account the destination for stay-at-home content. Like smoothie recipes on IGTV, daily Instagram Live workouts, Instagram "Takeover" Stories from some influencers and even a live Instagram DJ set on the weekend.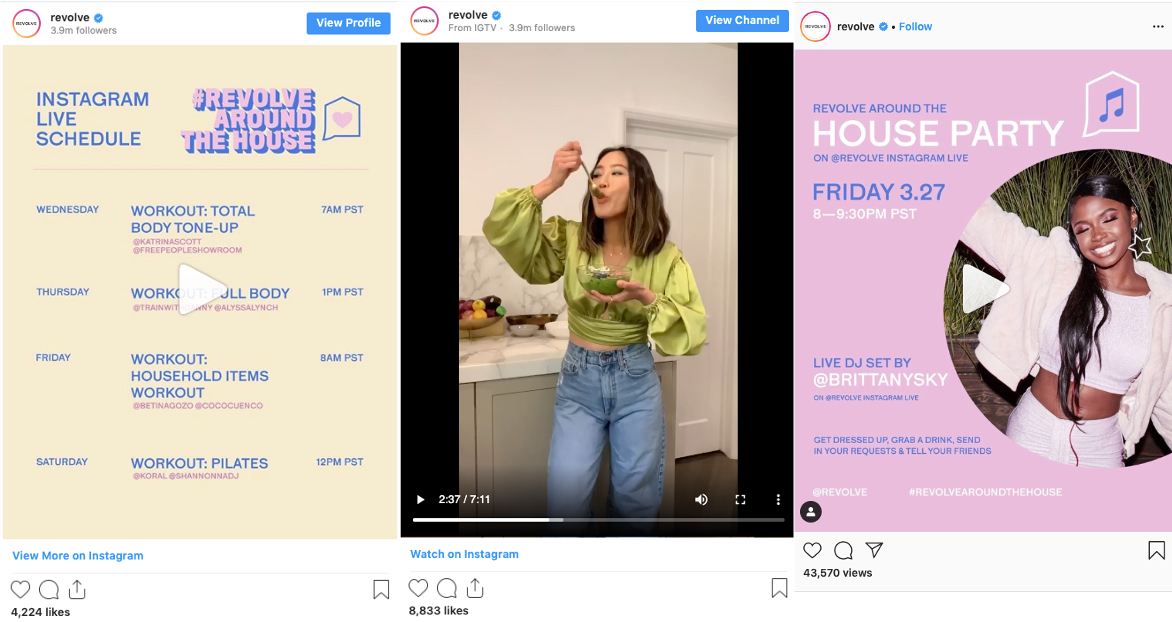 Burger King
The fast-food chain known for its original communications has found a good way to entertain those who want to make their own recipes for their favourite burgers.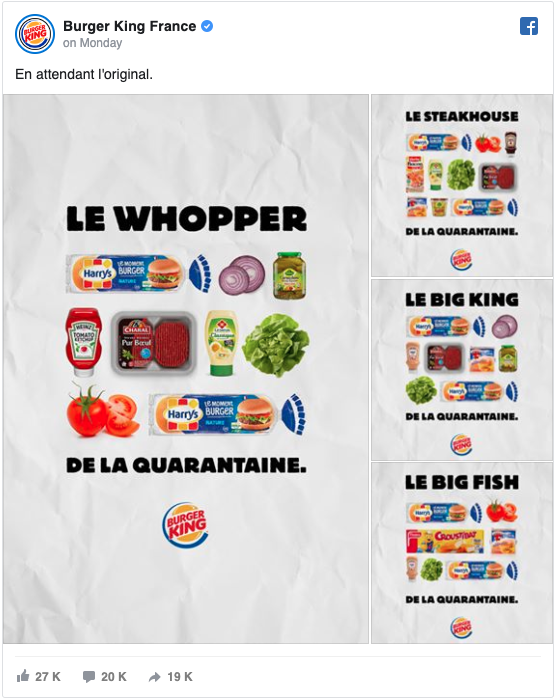 Words and deeds
Brands can also find unique ways to add value during this period by making themselves useful, other than through communications. Making donations, supporting hospital services, trying to make up for the lack of available masks, offering products or services for free… never before have so many acts of solidarity on the part of companies been observed throughout the world. Large groups, SMEs or start-ups, everyone can act and contribute with their own means.
The LVMH group was one of the first to react to the situation by using its perfume factories to make hydroalcoholic gel for hospitals, inspiring beauty groups like Estée Lauder, Coty but also smaller brands like Merci Handy and their You Are Heroes collection.

In fashion, factories are used to manufacture masks for medical professionals but also for workers in the field. Among them: the brands Dior, Etam and Chanel. To cope with a shortage of breathing apparatus, car manufacturers such as Tesla & co have been called in, which has transformed their factories into equipment production centres.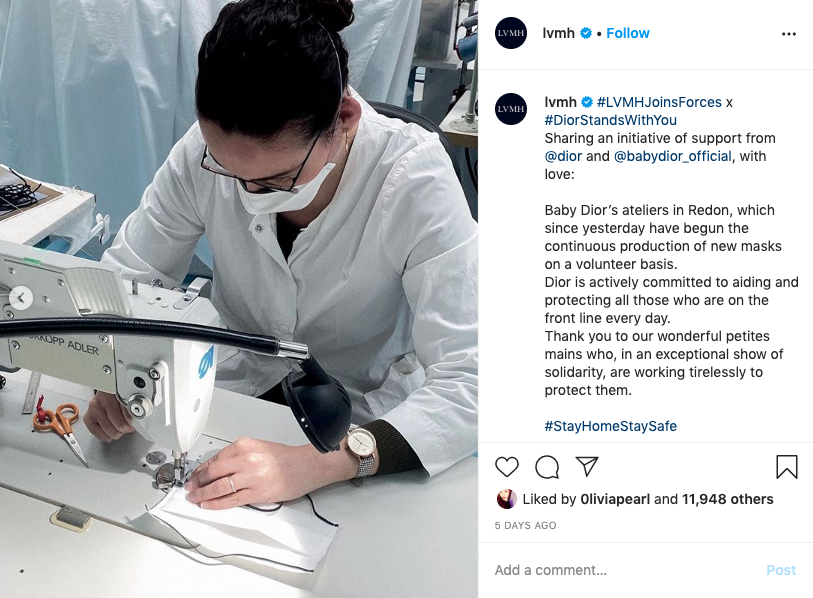 Helping as a brand also means offering free or reduced prices for products and services to support those who are no longer employed or see their income decrease.
So, while all teleoperators have shown great generosity, such as Orange, Telenet or Proximus, the Food & Beverages players deliver free supplies and various meals to hospitals. For example, chocolate brands Godiva and Leonidas , but also and above all, a large number of small and medium-sized local restaurants.
Many also donate part of their profits to hospitals, research centres or associations. Among them, the chocolate maker Galler, the home perfume maker Baobab Collections and the fashion retailer Zadig&Voltaire.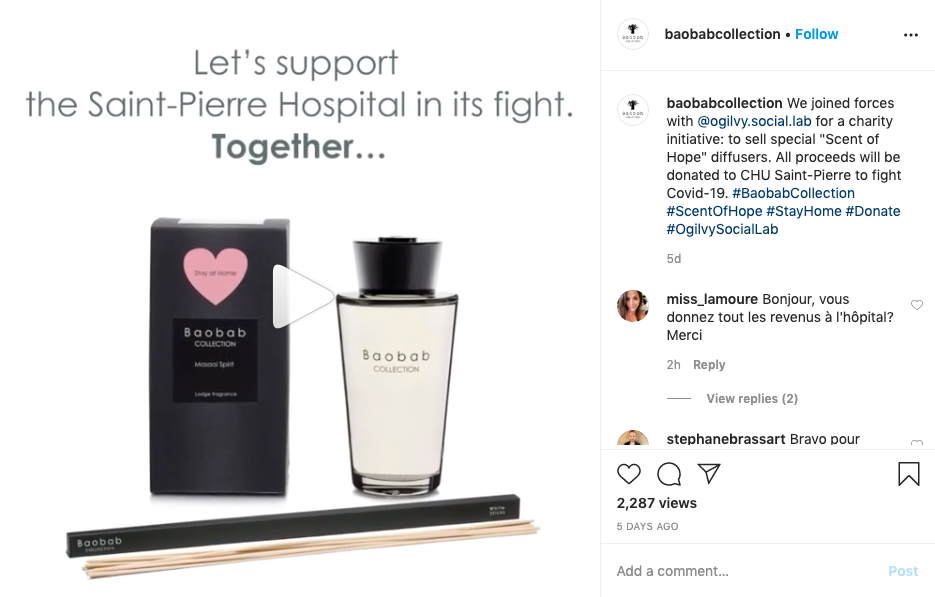 These are just some examples of how brands are giving a positive spin on their business during these challenging times. Although it might seem daunting, this period calls upon all of us to scrutinize our brand, strategy and creativity and might even foster outcomes we couldn't have imagined otherwise. We would love to hear from you, which brands or influencers have inspired you and how you are dealing with the sudden changes.