Stellar and its partners, La Redoute and Awin Global, received 3 awards in 3 different categories at the first edition of the Cas d'Or of Performance Marketing held on February 17, 2022 in Paris: Gold in Innovation, Gold in Influence Marketing and Bronze in Awareness and Performance. These awards honor the tech and performance collaboration between Stellar SaaS, La Redoute and Awin Global.

The Cas d'Or, a spotlight on the best 100% Performance Marketing solutions

For more than 20 years, the performance-oriented Digital Marketing has been in constant growth. It is made up of actors, publishers, agencies, affiliation platforms whose economic model is indexed and/or driven by results.
The Cas d'Or of Performance Marketing showcased representative cases in this segment, through partnerships between publishers, platforms and solutions, agencies, advertisers and e-retailers.
A prestigious jury composed of decision-makers in digital marketing and acquisition had the heavy task of selecting the winners of the 2022 Cas d'Or of Performance Marketing. This jury was composed of, among others:
Audrey Leblanc

, Digital Director, Communication & Marketing for 

Celio
Clémence Bussière,

Head of CRM & Acquisition for

Printemps
Emilie Lambrot, Acquisition & Data Performance Manager

 for 

Hermès
Guylain Meykiechel,

Head of Global Acquisition & Media Strategy for 

Deezer
Marion Graff,

VP Marketing & Digital Senior Brands for

Meetic
Olivier Granda, Traffic Acquisition & E-Commerce Manager

 for

But
Raphaël de Boishéraud,

Digital Marketing Manager B2C for

EDF
The entire list of jurors here.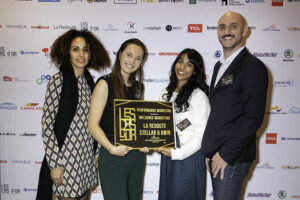 The winning case: How to create a powerful influencer marketing entity by combining perf-influence and brand influence? Rethinking your processes with the Stellar technology
More than ever, the organization of teams in a marketing department must be re-thought. Silo management must be replaced by flexible and collaborative organizations. La Redoute France understood this and with its partner AWIN, they have decided to rely on Stellar technology to rethink the way they use influence in the leading fashion and home goods retailer.
Challenge for La Redoute: creation of an influence brandformance entity
Create synergies in influencer campaigns that have been run for too long in parallel and asymmetrically by two different teams with distinct objectives: the performance team (traffic and conversions) and the brand team (visibility, image). The objective is to eliminate the boundaries between branding and performance in order to be more efficient and remain competitive in the sector. The breakthrough innovation lies in the structural modification of the organization between the different marketing departments of La Redoute.
Solution: change your processes with the Stellar technology
The Stellar platform has enabled La Redoute and AWIN:
to find and map relevant influencers according to their universe, the audiences they reach and the objectives they can reach (visibility or conversions) while providing a common database to the teams in order to avoid duplicating contacts and actions.
to organize projects and communications with influencers in a transparent manner for a global view of all teams. The result: industrialization of processes, intensification of collaborations (from 80 partners in December 2020 to 500 in June 2021) and a duplication of actions.

to make quick cross-platform campaign assessments, with automatic content feedback, and efficient, with a detailed view of the KPIs achieved and cost-effectiveness: by campaign, by social media and by influencer. Results: 1 single campaign for 2 teams and several objectives.
Implementation of the device – Success Story: La Redoute Black Friday campaign
For the holiday season and the Black Friday, La Redoute launched a 360° promotional and branding campaign to increase the visibility of its actions during this period of shopping, good deals and gifts. Using the Stellar platform, the company selected micro and macro influencers, whose focus was on family, fashion and/or lifestyle. Over 80 partners were monitored on the Stellar tool in less than 4 weeks.
Results:
An exceptional reach of 39 million
12 million followers reached
726K engagement
2500 sales out of 100,000 clicks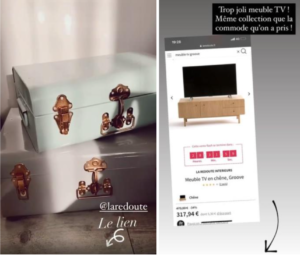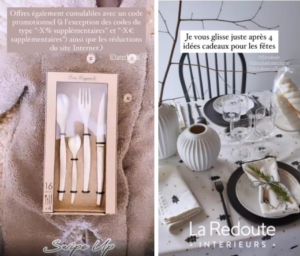 Stellar seen by La Redoute – Interview with Anna Faure, Head of Media at La Redoute
Q: Stellar, failure or success?
Anna Faure: "For La Redoute, it's clearly a great success because we've finally found a tool that allows us to manage our influencer campaigns more effectively, both on the branding and performance side, through the choice of influencers with whom we'll collaborate, the implementation of campaigns and, last but not least, the performance monitoring. 
Q: A real asset in a brand/performance strategy?
AF. : "Stellar is a real asset in our influencer performance strategy, because at La Redoute, we've been working on the influencer segment for many years, but each time it was split between two teams: the team that managed the branding part and another team that managed the performance campaigns. Thanks to Stellar, we were finally able to combine these two teams through a common tool that allowed us to monitor the management of our influencer campaigns much more efficiently, between the choice of influencers, the identification and management of campaigns, and the performance monitoring part, which allowed us to monitor all of the actions, both branding and performance, operated by La Redoute, using the same tool."
Q: What impact did this have on the organization of your marketing department?
AF. : "The implementation of Stellar at La Redoute has also allowed us to better organize our services and our organization within the marketing and communication department. Indeed, we were able to unify our strategies more easily, have common objectives and work much more collaboratively, whether it was in identifying influencers, ensuring that there was only one contact by one person and that there was no duplication in the collaboration, to be able to implement campaigns much more effectively with perhaps common objectives, once again, which could meet branding objectives as well as performance. And last but not least, the performance tracking part, because thanks to Stellar, we can much more easily track all the KPIs that we track at La Redoute, and once again from the more branding KPI's to the more performance KPI's and have all that on the same tool to be able to easily share internally, to our management for example."
About Stellar, La Redoute and Awin Global
Stellar: The Stellar solution makes influencer marketing smarter, simpler and more effective for everyone. The software allows you to identify influencers, analyze their profiles and audiences, launch collaborations and track published content and results. Stellar is today the most complete solution to collaborate with the right ambassadors and launch effective and ROI-producing influencer marketing campaigns on social media.
La Redoute: For 180 years, La Redoute has been making the French art of living in fashion and home decoration accessible to the greatest number of people. La Redoute is a timeless company, a transgenerational story based on creation and permanent innovation. The La Redoute website is visited by more than 7 million unique visitors every month and La Redoute's reputation in France is considerable: 99% awareness among 18-65 year olds.
Awin Global: With 20 years of experience with more than 17,500 advertisers and over 225,000 active publishers, Awin manages the largest network of affinity publishers in the world. Awin offers solutions adapted to publishers at the beginning of the buying process, such as influencers, to keep them active and loyal.