Influencers can now hide their likes count: what does that mean?
On 26th May 2021, the Head of Instagram, Adam Mosseri, announced that Instagram users could now hide their likes on their posts and in their own feed [1].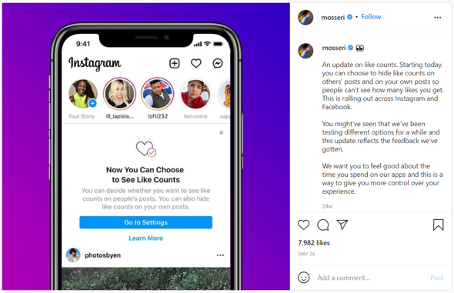 Instagram had been testing this feature for more than a year. The goal was to shift the focus from the like counts to the actual content and interactions without affecting the user experience.
According to Mosseri, given the strong reactions both in favor and against this change, Instagram decided to leave the decision to hide likes up to each content creator [2] [3].
can hide their likes count on some or all of their posts (including reels).

can hide the likes in their feed, so they will not see the likes count on anyone else' posts.
can access the number of likes gathered on a post by checking their Analytics.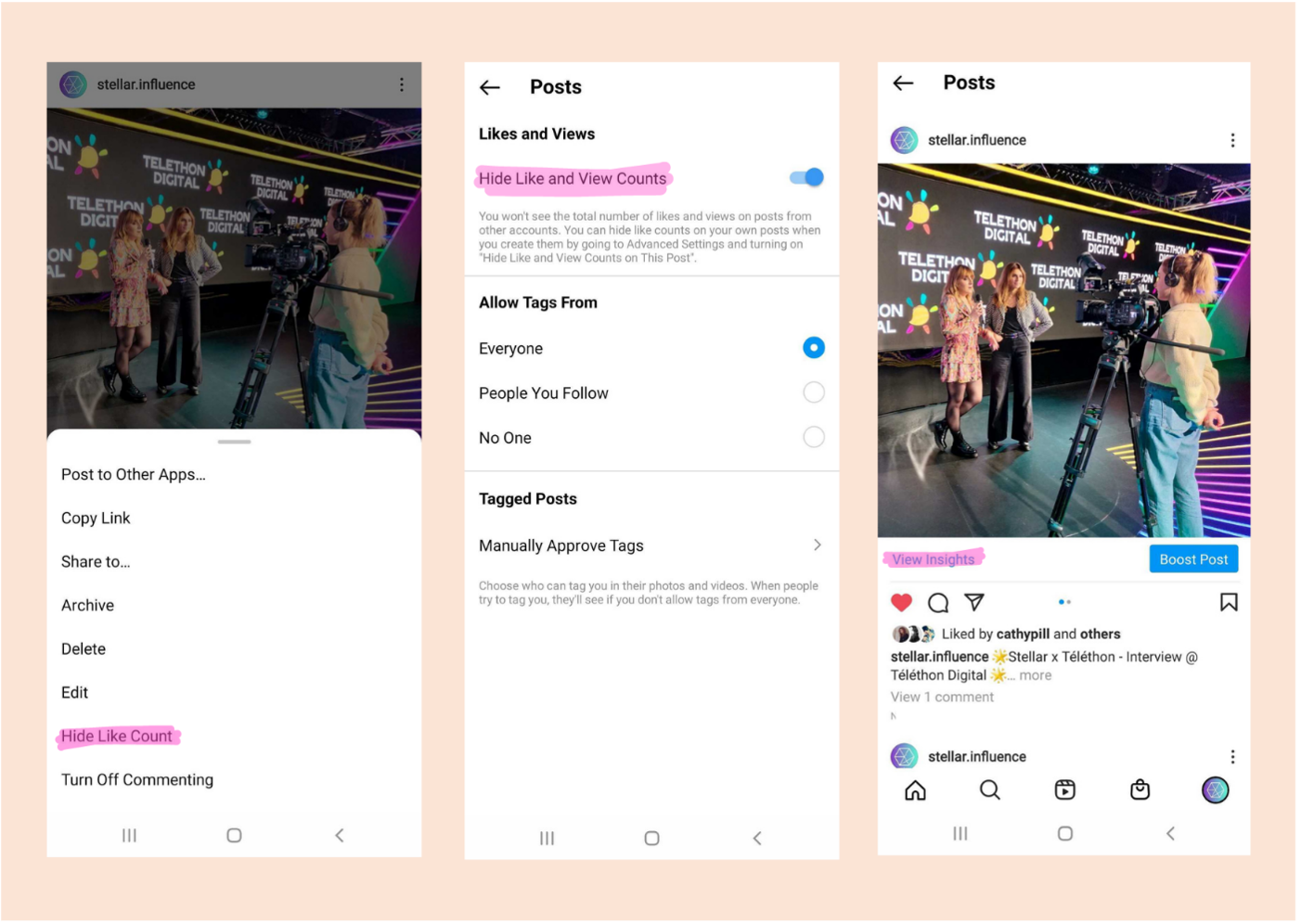 Why would Instagram allow influencers to hide their likes

?
This change is meant to draw the audience's attention on the content rather than numbers but also to alleviate the pressure to perform for content creator.

On the one hand, Instagram wants to create a healthier environment where the worth of a post is not limited to the number of likes it generates. This is a response to the frequent criticism that Instagram (and social media in general) reinforces toxic expectations, especially for a younger audience who tends to conflate self-worth and visible "success" on the platform [4] [5].


Youtube implemented a similar change to "promote respectful interactions" on the platform by making the dislike count invisible (10th November 2021) [6] [7]. According to the Youtube team, this new feature is designed to foster a more supportive environment, especially for smaller creators [7].
On the other hand, Instagram claims that they want to foreground creative content and authentic interactions. This trend too is noticeable on most major social platforms, currently promoting originality rather than popularity. Some platform, such as Snapchat and Tiktok, are even investing directly into their users to offer them greater creative freedom as they would not rely on external actors to finance their work (Snapchat's Spotlight, TikTok's Creator Fund)  [8].
Many analysts also point out that one of the convenient sides-effects of this decision is to directly cut down the impact of fakes likes. Ever since the like became such a valuable metric, Instagram struggled to guarantee the authenticity of interactions measurements as fakes accounts and bots were commonly used to boost posts engagement [4] [9]. With the hidden likes, Instagram is reducing the impact of this "vanity metric" and forces marketeers to focus on other elements of engagement.
What is the impact on Influence Marketing?
Instagram only launched this new feature after a long testing period, once it was proven to have a minimal impact on users interactions. However, if this change does not affect the influencer-audience dynamics, it certainly shakes things up in the brand-influencer balance. Let's be honest, the likes count was one of the most important metrics to assess an influencer's profile. Fortunately, brands and marketeers have other, more reliable, elements to lean on.
Here are some of the metrics to keep an eye on:
Followers evolution

Comments

Stories interactions

Clicks

Reposts

Shares

Saves
This change may also prompt brands to favor long-term collaborations with trustworthy ambassadors. This entails investing more time in selecting influencers who truly align with the brand ethos but guarantees a greater return of investment. It matches with Instagram's ambitions to favor creators who produce quality content that truly captures the audience attention.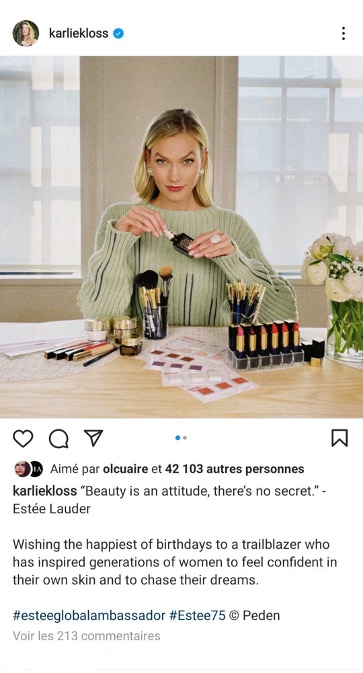 Better content and less focus on trends should encourage more genuine interactions on the platform. Users will naturally gravitate towards publications and influencers who share their interests which, in turn, can only boost engagement.

Instagram wants to favor this type of more direct communication between influencers and their audience. After all, the most successful format on the app is the Story. These ephemeral short videos generate a lot of engagement, although they do not show the number interactions to viewers. Like with the new hidden likes, influencers can access these data in their Analytics.
What is the impact on influencers?
As established earlier, this change has a very little impact on the influencers' relationship with their audience. However, many influencers were quick to realize that their Engagement Rate would likely be impacted by this change. It is common knowledge for professional content creators that this metrics is considered by brands when selecting influencers for campaigns.
This is likely one of the reasons why Instagram decided to leave the choice up to the influencer.
So far, this behavior remains fairly marginal amongst influencers. However, it is obvious that some of them are testing this new feature, usually hiding their likes counts on a few specific posts. At any rate, influencers still have access to these performance data. They are not left in the dark as to how their content is perceived and can choose to share these data with a selection of collaborators
How does the Stellar platform adapt

?
Stellar always puts its expertise in the field of digital marketing to the service of your campaigns! We always keep up to date with the latest news in the influencer marketing and social media industry to adapt our platform. That's why we quickly found a suitable solution.
WE NOTIFY YOU
We make it easy for you to spot the influencers who hide their likes on their post.
We also point out clearly which metrics are susceptible to be affected by this choice.
WE GARANTY ACCURACY
We ensure the accuracy of our metrics calculations.
The Engagement and Engagement Rate were both directly impacted by this change. When hidden likes are spotted on recent posts, our system automatically adapts the calculation to make sure we only include relevant posts that will not skew the Engagement of the influencer.
If influencers choose to hide their likes count on all of their publications, we make sure to point it out to you.
WE ADVISE ON BEST PRACTICE
Influencers are well-aware of the importance of the Engagement metrics for the brands they collaborate with. Hence, we noticed that influencers usually spontaneously avoid hiding their likes on their sponsored posts.
If Stellar indicates that one of your ambassadors has hidden their likes on one of your campaigns posts, we recommend that you simply reach out and ask them to provide you with the number of likes obtained on all the publications that interest you (including reels). Then you can manually enter the number of likes in your campaign on the Stellar tool and get a detailed and accurate report.
We may tend to forget it because they have become so intertwined with our daily lives, but social media are a very recent phenomenon. It is therefore no surprise that they will keep evolving, sometimes quite unexpectedly. The Stellar platform evolves along with them and continues to provide the best support in your collaborations with influence.
References list
| | |
| --- | --- |
| [1] | A. Mosseri, "Mosseri," Instagram, 26 May 2021. [Online]. Available: https://www.instagram.com/p/CPVlyAFpJPH/. [Accessed 16 november 2021]. |
| [2] | A. Mosseri, "Mosseri," Instagram, 27 May 2021. [Online]. Available: https://www.instagram.com/p/CPY7F3DpIXE/. [Accessed 16 November 2021]. |
| [3] | Instagram, "Blog: Giving People More Control," Instagram, 26 May 2021. [Online]. Available: https://about.instagram.com/blog/announcements/giving-people-more-control. [Accessed 16 Novembre 2021 ]. |
| [4] | T. Mazurel, "Insights – Instagram marketing hidden likes," Ink-co, [Online]. Available: https://ink-co.com/insights/instagram-marketing-hidden-likes/. [Accessed 16 November 2021]. |
| [5] | R. S. f. P. Health, "#Status of Mind," RSPH, 2017. [Online]. Available: https://www.rsph.org.uk/about-us/news/instagram-ranked-worst-for-young-people-s-mental-health.html. [Accessed 17 Novembre 2021]. |
| [6] | Youtube , "An Updade to Dislikes on Youtube," Youtube , 10 November 2021. [Online]. Available: https://blog.youtube/news-and-events/update-to-youtube/. [Accessed 24 November 2021]. |
| [7] | Youtube, "TeamYoutube," Twitter, 10 November 2021. [Online]. Available: https://twitter.com/TeamYouTube/status/1458482029817860096. [Accessed 2021 November 24]. |
| [8] | B. Haddad, "La fin du like: la creator economy va-t-elle tuer l'influence," Marketing, no. 232, pp. 39-48, 2021. |
| [9] | Iconosquare, "Instagram souhaite cacher les likes, conséquences et avantages," Business.ladn, 18 octobre 2019. [Online]. Available: https://business.ladn.eu/experts-metiers/digital/social-media-digital/community-management/instagram-cacher-likes-consequences-avantages/. [Accessed 16 November 2021]. |
| [10] | CreatorIQ, "Less than 3% of Instagram Creators Are Hiding Public Like Counts," CreatorIQ, 05 August 2021. [Online]. Available: https://www.creatoriq.com/blog/less-than-3-of-instagram-creators-are-hiding-public-like-counts. [Accessed 17 November 2021]. |