Social media platforms played an important role in our local and global communities last year, and will carry on to do so this year. As the International Braz J Urol notes in a piece titled 'Social media influence in the COVID-19 Pandemic', "never before in human history has it been possible to communicate so quickly during a pandemic". Lockdown measures across nations and continents forced us to come up with progressive ways to thrive as a community at a time of great change and uncertainty.
As some of us self-isolated, worked from home, and paused our life as we knew it, we looked to social media for emotional support, mental stimulation, news updates, essential shopping, and some light-hearted entertainment.
We witnessed subtle but profound developments in the way we communicate and address social issues. We accomplished professional tasks from our home offices. We provided better access to essential goods and expanded our services to promote inclusivity.
As the game-changing 2020 drew its curtains close and a hopeful 2021 makes its entry, we at Stellar think of You — the brand development managers, digital marketers, and content creators — who are determined to connect with audiences in candid and heartfelt ways. Together, we want to explore with you the possibilities that could help your business and ideas flourish in digital spaces.
Below are our forecast and suggestions for the influencer marketing industry to help you prepare for surprises and proactively align your budgets and communication efforts.
1 — Influencer marketing integration: Thinking 360
For a long time, influencer marketing was seen as a stand-alone part of marketing that operated independently from other channels. Volatile market conditions today, however, require a more integrated approach to ensure optimal ROI of not only influencer marketing initiatives but of all marketing investments.
More and more brands are heading to that direction and we frequently recommend this to our customers.
Weaving influencer initiatives in your marketing plan affords you the opportunity to have homogeneous conversations with your audience and customers, and also give your brand a more rounded messaging across different channels that is consistent and impactful. It's far easier to fine-tune your strategies once you understand the needs and wants of your target market.
An interesting example of a 360-marketing strategy that seamlessly incorporated influencer marketing strategies is the Courageous Smile campaign we developed in 2020 for our client Colgate. It was launched mid-year in France and the Netherlands, just as the world was collectively struggling to make sense of things and positivity was lacking.
The oral hygiene brand wanted to reinforce the message that "our smile is our strength" and that our personal struggles could be relieved with a small but powerful effort. Positioning itself as a Champion of Optimism, Colgate wanted to send the message that with a smile, anyone can overcome fear, prejudice, and failure.
To truly make an impact with one strong message across different channels, Stellar propelled the Colgate campaign with a holistic program that involved influencer marketing activations plus press releases, social media advertising, content marketing, and employee advocacy.
What did the campaign look like in France, and how did it create waves of consistent brand messaging?
• 8 influencer ambassadors showed real life examples of optimism in action, who shared through Instagram video teasers and testimonials how they have been smiling in the face of the adversity they experience in their daily lives.
• These media were then transformed into a real internal device to be carried by Colgate employees and fans, the primary influencers as 'brand advocates' – 200 employees and social followers in France gave testimonials of optimism on International Smile Day, giving face and personality to Colgate's courageous smile.
• Employee and influencer content were highlighted on Colgate's social media corporate accounts for greater impact and consistency.
• The campaign was shared using traditional media (print, blogs) for more credibility, through an intensive PR strategy.
• And finally, the campaign was amplified on social media via Facebook and Instagram ads – mainly boosts on influencer content – for higher visibility and wider audience and customer adoption.
Wider reach and engagement combined with positive reactions from customers and employees on social media show that integrating your influencer marketing efforts within your larger marketing plan can benefit your brand in many ways.
2 — Sincere collaborations: Thinking long-term
This year, individuals and communities became more vocal about the moral, social, environmental, and economic issues they care about. Private and public institutions became more susceptible to public criticism, and people in positions of power and influence became more exposed. The increase of scrutiny of those in the spotlight made way for a more conscious and values-oriented relationships between social media personalities and the brands they work with. This "value match" has always been a major preoccupation for brands, but in 2021 it will be a must especially for influencers themselves.
This means it's becoming increasingly important for them to choose collaborations that really fit with their online personality and not accept just any and every campaign that gets offered to them, in order to avoid some people being sceptical of their paid partnerships.
In 2020, more brands opted for long-term partnerships with influencers and launched prolonged campaigns with committed partners instead of one-off brand promotions, and we predict this development to grow even further in the new year. This is what we observed and recommended for our clients, wherever they may be based and whichever sector they are in.
Here are the reasons:
• Extended partnerships demonstrate a symbiotic relationship between the brand and its ambassador, and add sincerity to the collaboration.
• It's far easier for a brand ambassador to adapt their content to changing circumstances if they already have intimate knowledge of the brand visions and business direction.
• Such a partnership generally guarantees a steady flow of content, and gives the brand stock content that can be reused on their own digital properties or through ad amplification.
Here's how to do it right in 2021:
• Look and listen. Upstanding influencers will talk about matters they care about in their posts. Shortlist your choice of influencers based on how much their personal values resonate with yours, and co-create campaigns by asking them for ideas and by giving them the creative liberty to promote your products in their own style.
• When selecting influencers, don't forget to celebrate diversity and inclusion through representation. The social fusion of cultures, colours, and characters is key to expanding audience reach in 2021. This will help brands avoid alienating potential customers. Do this well by working with influencers and rising social media stars who are seen by their community as favourable role models.
• Give, don't just take. Shine good light to your brand ambassadors just as much as they're putting positive emphasis on your products and services. Be generous with that mutual love; be your influencers' fan, share their posts, and when possible, gift your products so that they may experience what your stuff is about. Reciprocity is key.
3 — Brand advocacy: Tapping into unrealised connections
Brand advocacy through your closest allies – your employees, company partners, customers – isn't a new thing and has been recommended by influencer marketing experts for years. Although it is still largely a missed opportunity for businesses and companies, we observed a few brands starting to adopt advocacy programs, hopefully paving the way for others in 2021.
Brand Employees
Your greatest brand ambassadors already know you. They are the unsung heroes who organically promote your products, services, and workplace culture.They know the ins and the outs of your business, what you stand for, where your brand is headed towards, and are likely to put in a good word for you when they feel valued as active contributors to your growth.
Do a relationship check-in with your executive and department leaders. Reach out to your company partners. Get to know your employees. Engage and connect on a human level.
Swedish fast-fashion retailer H&M did exactly this in 2019 when they launched H&M Insiders in the US — a campaign to showcase 12 selected H&M employees' personal fashion and home decorating styles. The genius of this campaign is that it wasn't just an employee look book. The brand grew their brand visibility organically by adding human touch onto engaging content that isn't on the usual marketing route. The campaign was time-efficient and cost-effective in getting the word around.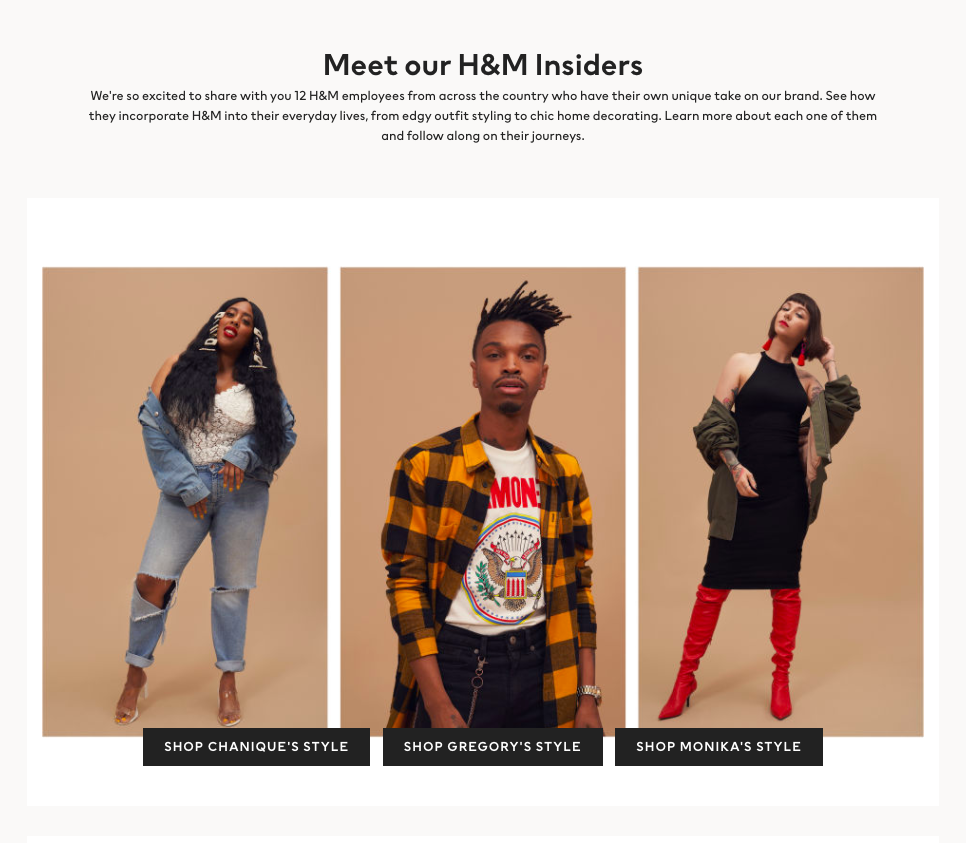 H&M also underlined their 12 Insiders' personal Instagram handles so that shoppers may have a glimpse of how H&M retail assistants weave the brand into their lifestyle. This is an interesting change from H&M's previous marketing strategy of working with 25-50 influencers monthly, according to the National Retail Federation Insiders.
H&M USA head of marketing Mario Moreno mentioned that 'H&M does quarterly check-ins with each of its influencers to provide an opportunity for both sides to give feedback — what they liked, what's working well, and what could be improved'.
Brand Customers
Your second-best brand ambassadors are your customers. 51% of 2,000 UK consumers surveyed for a 2020 Customer Advocacy Report say that they trust their friends' or partner's brand recommendations more than any other source. The report also mentions that 30% of brand recommendations take place offline. This reaffirms the advantage of having a referral program that tracks and optimises everyday conversations to drive favourable results.
Keep in mind that customers will champion your brand if indeed they are happy with it. They have first-hand experience of your goods, so go ahead and ask for reviews or a mention.
Brands mastering customer advocacy programs sweeten their request by offering the right incentives. Think special discounts, gift cards, exclusive access, free deliveries, point-based rewards, and referral programs.
We suggest reaching out to those who are already engaged with your brand's social media accounts to turn customers into superfans. Look for people who are liking, commenting, sharing your posts, and where possible, be relevant in their lives. Bank on the word-of-mouth chance that these engaged customers will put in a good word for your brand to their families, friends, community, and colleagues.
4 — Wider distribution: Exploring new and alternative social channels
A new year, a new social network to watch. While 2020 was the year TikTok really entered the stage, we predict 2021 to skyrocket yet other networks.
Content makers increased their online visibility and income opportunities in 2020 using Instagram, TikTok and Twitch.
Instagram
In 2020 Instagram was so far still the most used channel in influencer marketing. The platform wants to have and certainly has it all.
First, we saw the launch of Instagram Stories inspired by Snapchat in 2016. Then followed IGTV in 2018 inspired by YouTube. Along came Instagram Checkout in 2019 inspired by WeChat. 2020 was marked by the rollout of Checkout on all Instagram formats and the unexpected launch of Instagram Reels, inspired by the new kid on the block: TikTok. More than ever in 2021, this constant innovation will enable the platform — and the brands communicating on it — to reach a larger audience and meet more objectives through a wider range of content formats.
We may not have sufficient foresight today to make predictions about the success or use of this format in 2021 but it's hard to ignore its promising start. In August 2020, the month Instagram introduced Reels, British fashion retailer TopShop and influencer Marisa Martins pulled an additional 1.6m+ views in one post showcasing outfit combinations.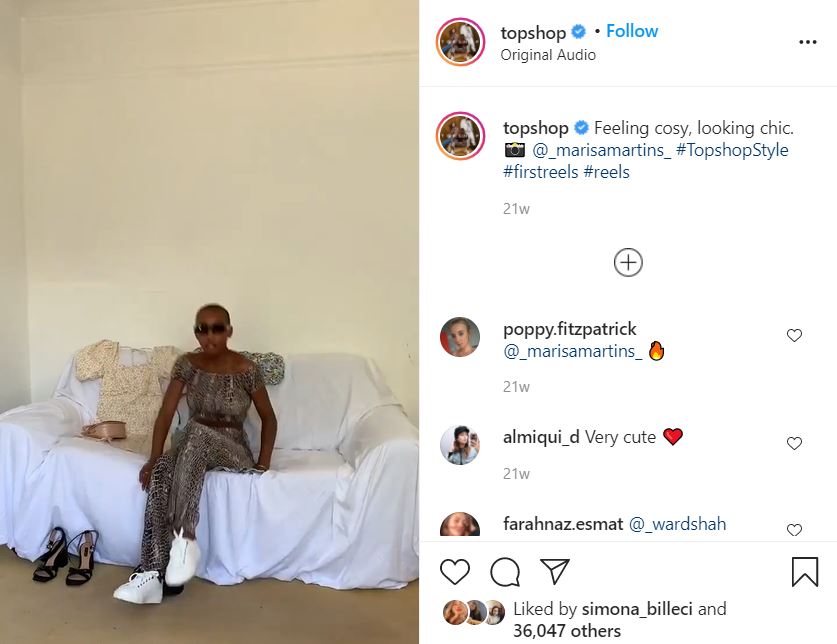 Instagram is likely to improve its Reels algorithm and add new advertising formats within the Reels functionality, especially as products are now shoppable within the content. The smart new combination of Reels and Checkout will give media creators and retailers a new lifeline in terms of income.
TikTok
Maintaining steady growth since its worldwide release, TikTok really made a name for itself in the past year. With large populations confined to their houses during the pandemic, social media use surged and video-based platforms like TikTok notably profited from the extra time people had on their hands.
In the period of January to November 2020 the TikTok app was downloaded the most of all mobile apps worldwide, ahead of Facebook and WhatsApp.
While first discovered and populated by Gen Z, the app is now also becoming increasingly popular with Millennials and even Boomers. As any other social network, TikTok also generated its own influencers who have taken the world by a storm such as American Charli D'Amelio who was the first TikTok user to hit 100 million followers on the app. Closer to home we can see Celine Dept has 11.3million followers making her the biggest TikToker in the Benelux. Not only has the new network brought about new influencers, it also saw in 2020 an influx of well-established Instagram influencers, celebrities and media outlets joining the video app.
Brands who have invested in their influencer marketing budget via TikTok mostly sprung from the lifestyle and music sectors. These brands were also the ones who reached their marketing objectives impressively, such as visibility and engagement, through fun and spontaneous-style content.
Most popular influencer collaborations observed in 2020 include product demos, unboxing (product reveals or trials), duets with entertaining music, dances, and special effects. Leading the TikTok trend are "challenges" fuelled by a popular #hashtag that brands can utilise or launch by themselves in collaboration with content creators.
The Oreo brand spotted the "challenge" opportunity and launched The Oreo Challenge to make the best out of a bad situation by challenging influencers to take part in their Stay Home Stay Playful game. Lead by the Stellar agency in the Benelux, Belgian and Dutch influencers were asked to move the iconic Oreo cookie from their foreheads and into their mouths without using their hands. This might seem like an easy feat, but the TikTok videos that showed the multiple failed attempts say otherwise! Worldwide, the #oreochallenge generated 119.3 million views and the estimated reach in the Benelux area was approximately 1.2 million.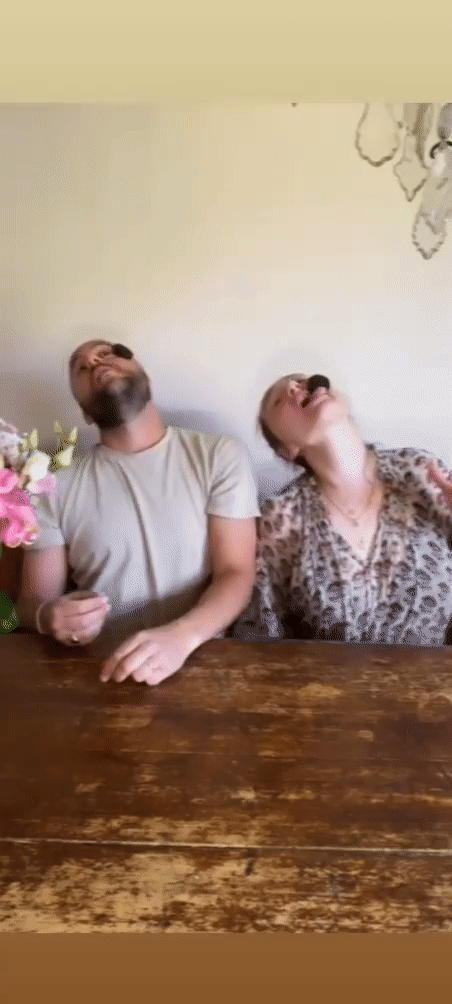 Another creative example of a successful TikTok campaign, this time in the music industry, is the Sony Music campaign promoting the release of Atrévete, a single by reggaeton artist Nicky Jam in collaboration with Panamanian singer Sech. Sony Music ran the campaign across Spain, Argentina, and Italy using the hashtag #showsomelove. The music company then contracted twelve influencers to create a TikTok video each, resulting to a total reach of 8m engaged TikTok users, 1.2 million likes, an average engagement rate of 6%, and 10,300 user-generated videos.
TikTok will continue its rise to stardom in 2021 leveraging the increased popularity of live and social commerce including livestream commerce.
Twitch
With the rise of the popularity of live video on social media, Twitch could be the next big thing. At the time of writing the majority of Twitch users are located in the US, but its popularity is also rising in Europe, with Germany and the UK taking second and third place.
Beyond the big players in social media,Twitch represents a booming community of 15 million active daily users who spend an average of two hours a day watching Twitch livestreams, making it an excellent avenue for brand visibility in influencer marketing campaigns. (via Mediakix)
Although Twitch is primarily associated with gaming and e-sport, it's quickly becomingthego-to place for brands and live streaming content at large. In 2020 we found streamers and channels dealing with a wide range of topics: Cooking, Music, Fitness, DIY topics, and so on.
Apart from its enormous audience and visibility opportunities, Twitch is valuable to marketers for its audience type and the unique engagement opportunities.
By executing influencer marketing campaigns on Twitch brands gain access to a highly specific demographic: 81.5% male users, with 55% between the ages of 18-34.
In regards to engagement, the unfiltered and often lengthy duration of Twitch livestreams makes for highly authentic content that is engaging for communities. Creators get to stream themselves but most importantly, they engage with viewers via Twitch chat which is where the magic happens. On top of that, viewers can support their favourite streamers through donations and subscriptions.
According to Twitch, 62% of viewers engage with esports and gaming personalities daily, 70% offer monetary support and 64% purchase products recommended by them. These impressive figures make the platform unique in terms of community's engagement, loyalty and conversions potential.
Slowly but surely, brands are finding fresh ways to get on board with Twitch for their influencer marketing campaigns.
A famous case study is the partnership between female Twitch gamer 'RoryPlays' and The Sims franchise, in the release of a game package The Sims 4: Cats & Dogs. RoryPlays organised one sponsored video where she played the game and discussed its notable features within the 2-hour livestream, providing a link for users to purchase the game.
Another way of promoting a brand with the help of a Twitch influencer is having them give away products during their live streams. A good example of this is the 'winner winner chicken dinner' campaign run by DrLupo and KFC. DrLupo, 4.4 million followers, asked his viewers to type in "dinner dinner" into the chat box when DrLupo defeated other contestants in his game. DrLupo would then give away free chicken dinners to some of his viewers. KFC used Twitch influencer marketing to increase their brand awareness and connect with their target audience. Because they created a new bucket emote, they garnered a lot of interest from the audience. Even after the promotion, other content creators made podcasts and wrote articles based on the emote.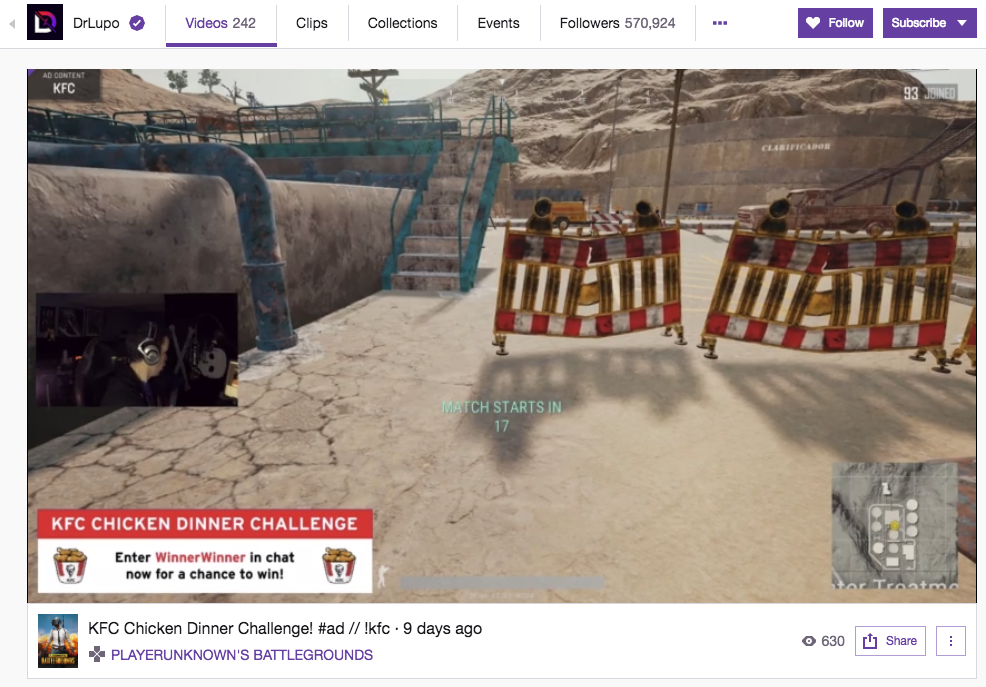 Never too late, at least when it comes to marketing, UberEats jumped on the Twitch bandwagon in 2018 already by teaming up with streamer Tyler Blevins who is an avid gamer. They gave him the challenge to kill off as many enemies as possible between the time that he placed his order until it was delivered. With each kill he would then earn 1% of discount for his viewers. When his order arrived, he had killed off 25 enemies in Fortnite and thus earned 25% discount for his fans. Using the uniquely generated code NINJAMOS, the campaign was a huge success and even forced UberEats to shorten the time frame of the action from 3 days to just 1! (via Shane Barker, May 2020).
5 — Going live: Real-time fun and interactions
As our much-anticipated festivals and social gatherings got cancelled, we turned to Twitch, TikTok, YouTube, Instagram, and Facebook Live for music, parties, gaming, and other entertainment to pass our time and fill our calendars. At a time when many of us felt isolated, 'live' connections provided the social balm we needed.
Going live is an effective influencer marketing tool for business, too. Unlike static content (photos), short clips (GIFs, memes, loops), and pre-recorded videos, live streams lift the curtain between participants, opening an opportunity for unique interaction, empowering all parties — both influencers and communities — to feel acknowledged.
Live gigs enable brands and influencers to plug exciting promotions via interviews, behind-the-scenes, takeovers, shoutouts, reviews, product placements, product unboxing, demos, giveaways, competitions, challenges, and viral hashtags.
The USP of livestream lies in its ability to reach multiple objectives without spending too much on production:
• Boost visibility. Fans and Subscribers can enjoy bothdocker-compo the livestream, and when possible, the replay recording of the stream for later.
• Generate engagements thanks to the candid quality of conversations
• Drive clicks where links can be inserted
• Forecast purchases through potential customers' live questions and feedback
• Drive sales given the availability of shopping features on social media such as Instagram checkout or web platforms whether owned by brands or not.
At a time where ROI measurement has become a must, live streaming appears as one rare area where a lot of measurable and precise results are available in real-time: viewership numbers, average watch time, geographical location, digital device used, and other helpful metrics.
Another reason of livestream's widely use : All organisations can benefit from 'going live'.
Charities can use this as a tool to raise funds and awareness. Vlogger and gamer's collaboration with the 'Make-a-Wish' foundation in the Netherlands and Belgium is a success story in the recent history of internet live streams. Yarasky organised a 24-hour long livestream via YouTube Live in support of the non-profit programme to grant the wishes of sick children, raising up to €10,000 in donations and a PR-value and reach of 5.7 million people.
Events and hospitality industries can benefit from online live events too. For a most recent example, Belgian electronic dance music festival Tomorrowland live streamed a New Year's Eve party to welcome 2021. Tickets for this HD viewing experience were sold in three denominations, with B2B hospitality options for businesses and companies to "invite employees or clients to experience Tomorrowland 31.12.2020". DJ sets and artist performances were streamed live, and there were four different stages for entertainment diversity. The Tomorrowland team partnered with NAOZ, a 'brand-new year-round digital entertainment venue'.
It is in these opportunities that talented people can showcase their skills and optimise a monetisation opportunity from a supportive audience, just as brands and businesses can carry out experiences that people seek.
We recommend our clients to keep their eyes on Instagram, TikTok, and Twitch — as explored on Trend No. 4 — for livestream developments in 2021.
6 — Social commerce: Influencers as product agents
As highstreets closed, we turned to online shopping. And not just online shopping, but livestream shopping within the social media ecosystem.
"Coronavirus pandemic turbocharges online sales, up more than 31% in just three months," a CNBC headline reported in August. Consumers in the US spent $211.5 billion during the second quarter of 2020 on e-commerce, up 31.8% quarter over quarter, according to data published by the U.S. Census Bureau.
On the other side, in China, livestream shopping growth bumped from 66m USD in 2019 to 170m in 2020, according to iResearch, a Shanghai-based market research firm (via Influencer Marketing Hub). Alibaba-owned Chinese livestreaming network TaoBao reportedly captured 400 million viewers and raked in $28 billion in 2019 through real-time virtual shopping.
What does this trend offer to the future of brand-influencer-follower relations? What are social media platforms and leading web platforms doing to expand opportunities for everyone?
The Wechat Inspiration
Enabling user shopping without ever leaving their app has always been the dream of the occidental social giants who have been inspired by their Chinese counterpart Wechat.
After launching checkout in 2019 to a restricted group of early brands adopters, Instagram took it further in 2020 to boost and show everyone its potential. Now available in the US on posts, Live, Stories, and IGTV and Reels, the interface enables the audience to browse products from their favourite brands and/or creators.
Instagram and Facebook are not the only ones steering their growth towards social commerce.
In October 2020, YouTube announced its goal to transform its library of videos into a catalogue of shoppable items. The functions are still being tested and we believe that influential YouTubers will play an active role in the development of this functionality.
TikTok has been exploring the shopping area for some time. It started with the launch of last year's Hashtag #ChallengePlus, which added a shoppable component to a hashtag, directing users watching the video to shop a site from within TikTok. This year, brands like Levi's leveraged TikTok's 'Shop Now' buttons to enable consumers to buy products customised by famous influencers, through links posted on TikTok.
In a deal announced in October, the app partnered with Shopify on social commerce by allowing Shopify merchants to create their TikTok marketing campaigns directly from the Shopify dashboard. ( Source: Tech Crunch )
Live Shopping
While Instagram, Facebook and YouTube are developing, testing, and releasing 'live' commerce features, TikTok is making sure it doesn't lag behind. TikTok recently partnered with Walmart on the first pilot test of a 'shoppable product'.
In a Walmart livestream on December 18th, TikTok users were able to shop from Walmart's apparel selection without having to leave the TikTok app. The items themselves were featured in content from 10 TikTok creators, led by host Michael Le, whose TikTok dances have earned him 43+ million fans. ( Source: Tech Crunch )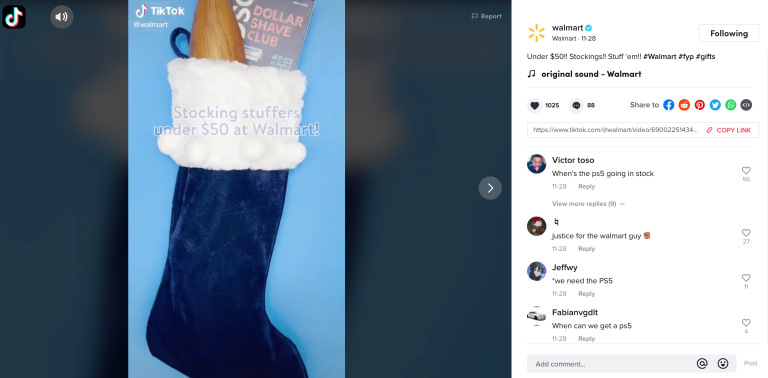 Major players in Tech have also joined the video shopping trend in various ways: Google through its R&D arm, Alibaba through AliExpress and Amazon through its QVC-like Amazon Live that's on its way to becoming a thriving market for influencers in North America building a community of influencers rewarded through the Amazon Influencer Program.
Retail brands like Fnac Darty or Clarins have started to invest in tools such as Caast.tv to be able to host their own live streams straight from their own e-shops' product pages.
Whether animating live from their own social media channels, on the brand platform, or in a marketplace, the influencers carefully chosen to host live vary from top industry experts and influencers, to micro influencers, to brands' own employees.
The key here is to find a speaker with an entertaining presence that can sustain audience interest, be clear in answering questions about the products, and is persuasive in driving excitement for sales.
7 — CSR: Influencers as value messengers
Influencers played a huge role in driving the online and offline momentum of solidarity movements and meaningful activism in 2019 and 2020. We had an alarming global pandemic to contain, climate change strikes, BLM protests, LGBTQ representation, and so on, fuelled by personal and collective ideas shared by many people on social media. Influencers' numbers of followers proved valuable in appealing to a captive audience that is ready to listen.
As the general public demanded accountability and transparency around business practices from brands they know and follow, influencers became efficient communication tools for spreading messages related to a brand's social, environmental, and ethical responsibilities and commitments.
At Stellar, we are convinced that brands that will communicate their values in CSR will win the support of more customers.
This is what our client Colgate-Palmolive has been doing throughout 2020 with a range of influencer campaigns aiming at promoting their Sanex and Colgate brands. The labels have been partnering with ambassadors carrying the values of eco-responsibility and courage to express their own brand values, commitment, as well as concrete actions demonstrated by offering new conscious product ranges and production systems, and/or through philanthropic efforts.
The North Face is another brand known for enlisting nature-loving adventurers sharing their values of environmental preservation, strength of the human spirit, and the joy of adventure. These influential figures include photographer and professional climber Jimmy Chin, writer and mountaineer Jon Krakauer, free climbing athlete Alex Honnold who mainly talk about those values only slightly mentioning The North Face brand in their posts.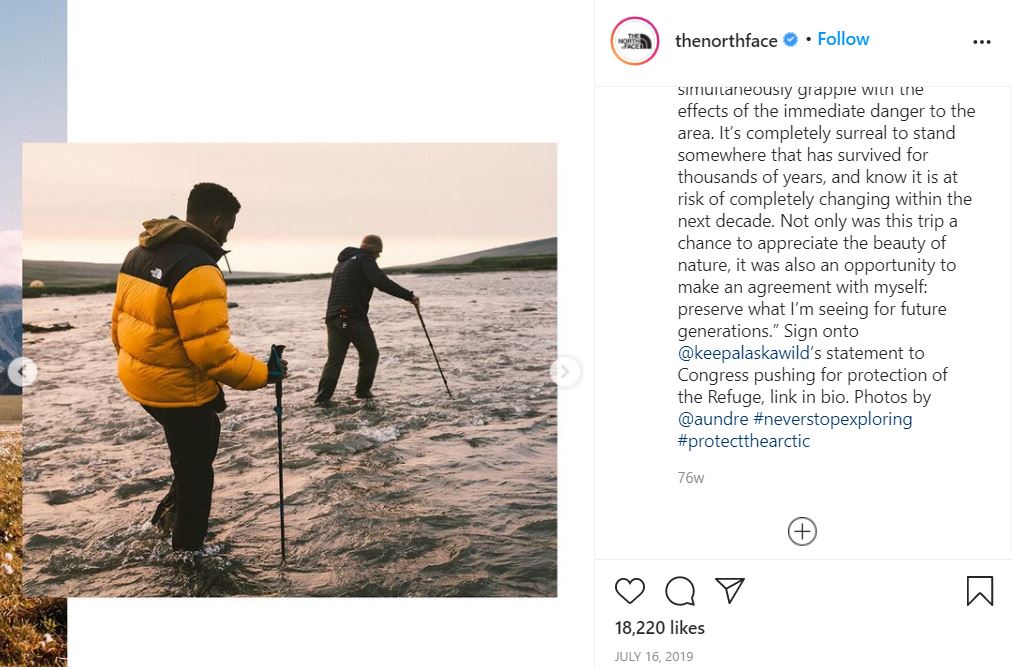 In 2019, the brand decided to appeal to a younger customer base while keeping true to their values of promoting the great outdoors. They sent a group of young influencers — including YouTuber Nathan Zed, visual artist Monica Hernandez, climate activist Maia Wikler, and Gwich'in youth leader Julia Fisher-Salmon — to the Arctic National Wildlife Refuge as part of an expedition. The project "served as an integral marketing push to get North Face-clad influencers to share social content about the journey with their legions of followers". ( Source: Business Insider Program )
Conclusion
As our team at Stellar look forward to a new year full of surprises, we are flexing our social muscles, following impressive brands, interacting with a lot of rising social media stars, plotting new ideas, adapting to changes, and learning new lessons. And we are eager for you to join us on that journey through the exciting influencer marketing universe.